52 Ancestors 52 Weeks - 2018
| | |
| --- | --- |
| Posted on February 5, 2018 at 5:35 PM | |
Week 4 - 52 Ancestors in 52 Weeks: Invite to Dinner
Guess Who's Coming to Dinner?
 By Nicole Hicks
So, the theme for week 4 of the 52 Ancestor 52 Weeks challenge is "Invite to Dinner!" When I think of dinner as it relates to families I think of Christmas, Thanksgiving, and birthdays dinner, and of course family reunions. Food has always been the staple of family gatherings. Now there are branches of my family that don't get together often and then there are other branches of my family that have regular family celebratory events and reunions. And let me tell you there's nothing like a family gathering with great food, family love, and fellowship. But instead of thinking of the many many family gatherings that I have attended, I thought about what the ultimate family dinner I could host would be like.  And guess who's coming to my family dinner? All of my great-grandparents!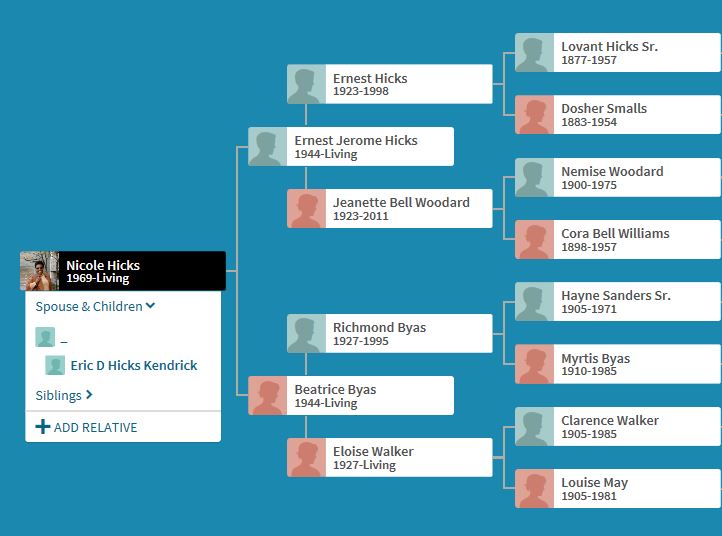 I would love to go back in time and have an old-fashioned Sunday dinner with all of my great-grandparents, all of them! We all have 2 sets of grandparents and 4 sets of great-grandparents. To be able to sit around the dinner table and listen to these 8 very wise and wonderful people would be phenomenal. Of course, the topic of conversation would be family history. I can visualize my great grandparents sitting around the table wondering why they all were invited to dinner and me telling them all about the research I have been doing and how important it is for me to write about them and their ancestors…the good, the bad and the ugly. I would explain to them how that the one thing that they all have in common is me!
I was fortunate enough to have known 2 of my maternal great-grandmothers Louise May-Walker (1905 – 1981) and Myrtis Byas-Kinard (1910 – 1985) and one of my maternal great-grandfathers, Clarence "Buck" Walker (1905 – 1985). While my Grandma Louise would occasionally talk about various family members, my Grandma Myrtis and my Granddaddy Buck did not. I have fond memories of them and several of them involve food. But to meet my 2 paternal great-grandmother's Cora Williams-Woodard (1898 – 1957) and Dosher Smalls-Hicks (1883 – 1954) would be truly intriguing. I've only heard positive stories about them and how caring and loving they both were, especially with their grandchildren.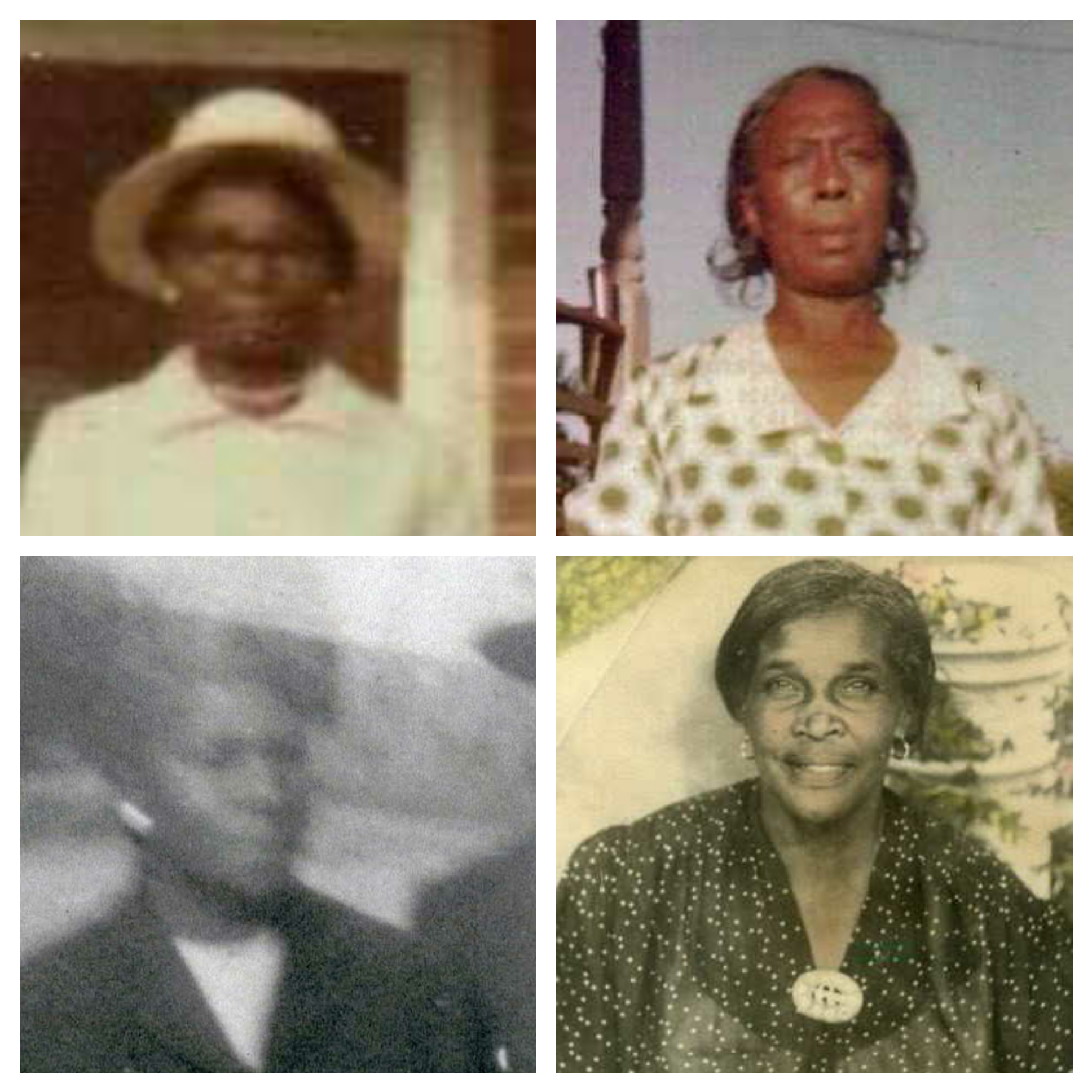 Top left: Myrtis Byas-Kinard (1910 – 1985); Top right: Louise May-Walker (1905 – 1981);
Bottom left: Cora Williams-Woodard (1898 – 1957); Bottom right Dosher Smalls-Hicks (1883 – 1954)
It would be awesome to sit and talk with my great grandfathers too.  My great-grandfather Haynes Sanders (1905 – 1971) would be a most interesting person to have a conversation with, because no one seems to really know anything about him.  I think he might be the only one to decline the dinner invitation! He abandoned 4 of his children and they had no relationship with him.  One of those children was my maternal grandfather Richmond Byas (1927 – 1995). He and his siblings knew very little of their father's family and today all 7 siblings are deceased.  Their descendants don't even know each other.
I can imagine the men around the table, my great-grandfathers, my patriarchs, telling stories about their work a farmer, except for my great-granddaddy Nemise. He worked on a farm, then in a factory, and then as a barber.  While dinner was being prepared, I can see them sitting on the porch smoking pipes or chewing tobacco.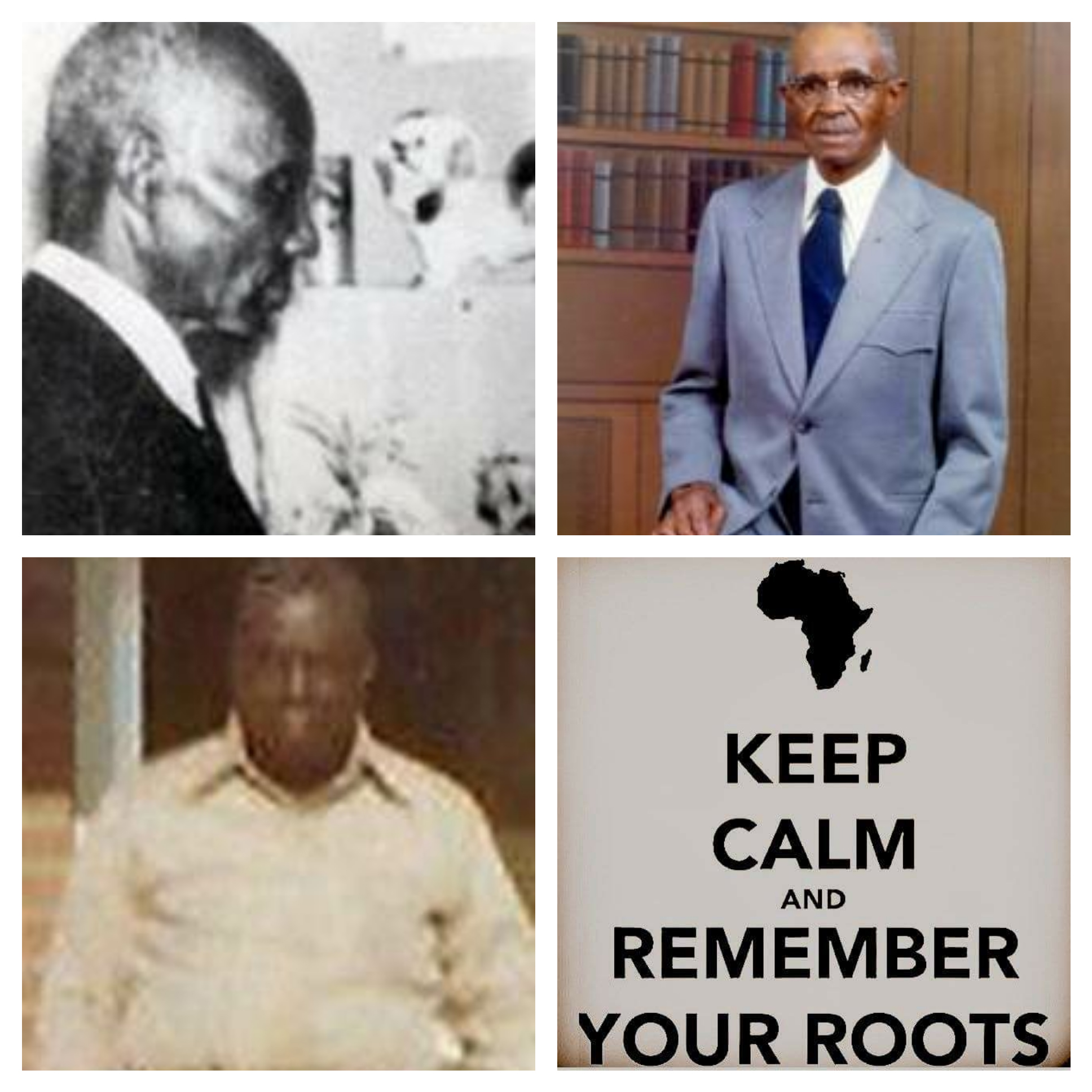 Top left: Lovant Hicks, I (1877 - 1957); Top Right: Nemise Woodard (1900 - 1971)
Bottom Left: Clarence "Buck" Walker (1905 – 1985)
I would want them to tell me their stories. I would want to hear about their parents, grandparents, and great grandparents. I would want to hear them talk about raising their children, their hard times, and stories of slavery. I would want to know about the good times and what was the best thing they had experienced during their lifetimes.  I would ask about those elusive relatives that disappeared from the census records. The more I imagined this scene, the more I began to smile to myself.  What an incredible evening it would be!   
In turn, I would tell them about their children, grandchildren, great-grandchildren, and great, great-grandchildren.  I would share with them, the long list of those who served in the military and those who worked in government. I would hope they would beam with pride about the vast number of college graduates that are their descendants.  I would share the number of pastor, teachers and other professional occupations in which their grandchildren and great-grandchildren are employed. I would assure them that their struggles and hardships were not in vain and the success, growth, and legacy of their descendants increases with every generation. I would tell them that while we all have struggled at various points in our lives, it could never have been as difficult as what they saw, heard, and experienced during the aftermath of emancipation, the poverty during the great depression, the brutality of segregation, and the uncertainty of the great migration to places the offer more opportunity.  The residual effects of those still plague the black community today, but they led the way, set the example, and showed us how to make our way, make our mark on the world! I would reassure them that we continue to press forward and that they all can be proud of their legacy! I would thank them for their sacrifices and teaching those before us.
The food…Oh my God, I can envision a large ham at the center of the table and a big plate of fried chicken. Of course, there would be collard greens, candied yams, and macaroni and cheese, three of my favorites. And cornbread and a huge pitcher of fresh squeezed lemonade and sweet tea!  I can imagine all of my grandmothers debating over whose sweet potato and/or coconut pie recipe is the best! I know that my Grandma Myrtis would make an awesome buttered pound cake and Grandma Louise would make an Apple Jelly Cake. The "Ultimate Sunday Dinner."
This "Invite to Dinner" would be one filled with curiosity, excitement, acknowledgment, fellowship, love, and the consumption of good ole southern cooking!
Who would you "invite to dinner"?
#52ancestors #kinfolksfamilyhistory #knowyourhistory #herstory #mystory
Categories: None